Minerva is a bi-monthly magazine that showcases the splendours of ancient cultures, and the ways they continue to inspire us today.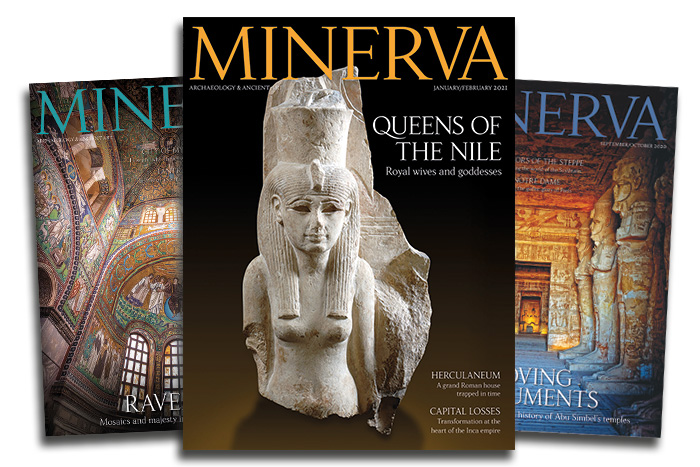 Founded in January 1990, Minerva has been giving readers an inside view of the archaeology, culture, and art of the ancient world for the past three decades. With spectacularly illustrated and thought-provoking articles, the magazine tells a range of stories from our distant past and brings you up-to-date news on the latest archaeological discoveries, an in-depth look at major exhibitions, and reviews of new publications.
Who are we?
Since January 2020, Minerva has been published by Current Publishing. Issue 182 (March/April 2020) was the first we produced. We've been around since 1967 when we launched our first magazine, Current Archaeology. Current World Archaeology followed in 2003, and Military History Matters in 2010. We also organise the annual Current Archaeology LIVE! conference, including the Current Archaeology Awards that celebrate the people, projects, and publications making outstanding contributions to archaeology, as voted for by the public.
Meet the Minerva team:
Lucia Marchini, Editor
Lucia studied Spanish and Classics at King's College London. She then decided to devote more of her time to the ancient world and read for an MA in Classics at UCL. As a freelance researcher and writer, she worked with historian Bettany Hughes on a number of book, radio, and film projects, and started contributing to Minerva in 2014. Lucia first joined Current Publishing as Current Archaeology's Editorial Assistant in 2016, before working as Assistant Editor of Current World Archaeology. She has been Editor of Minerva since September 2020. As well as archaeology, Lucia has a keen interest in visual arts and Latin poetry.
Maria Earle, Editor-in-Chief and Publisher
After studying History of Art and Italian at UCL, Maria joined the award-winning Independent Magazine, where she was first a picture editor and then visual arts editor. She has also worked with many of Britain's finest writers and photographers at the Telegraph, the Sunday Telegraph, and the Observer newspapers, and for magazine publishers including Conde Nast, EMAP, and the National Magazine Company. After ten years at Current Publishing, Maria has helped launch Military History Magazine, overseen the steady growth of Current Archaeology and Current World Archaeology, and masterminded the recent relaunch of Minerva magazine.